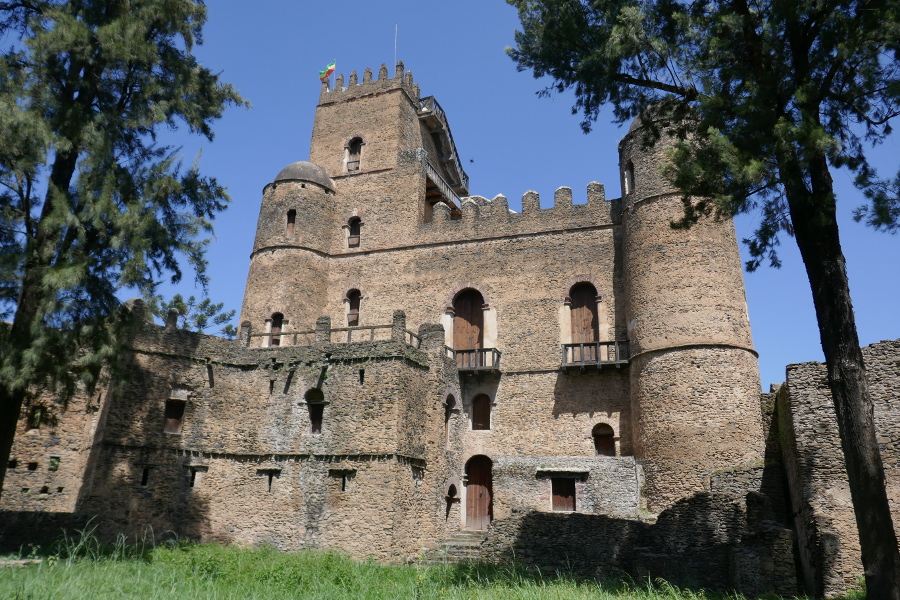 This morning, after breakfast, we go together with Christina and Daniel, our Spanish acquaintances, to the "Gemp", the 70,000 square meter castle district in Gonder.
The castle complex developed between the 17th and the 18th century – an endless succession of emperors who killed each other. Until Emperor Fasiladas came to power (the namesake of the most important  palaces), the Ethiopian emperors pulled through the country with sack, pack and court, because they had the princes and other vassals better under control. At some point the campgrounding, especially in the  rainy season, became too much and Fasiladas settled in Gonder and had, with the support of the  Portuguese missionaries, to build the first palace.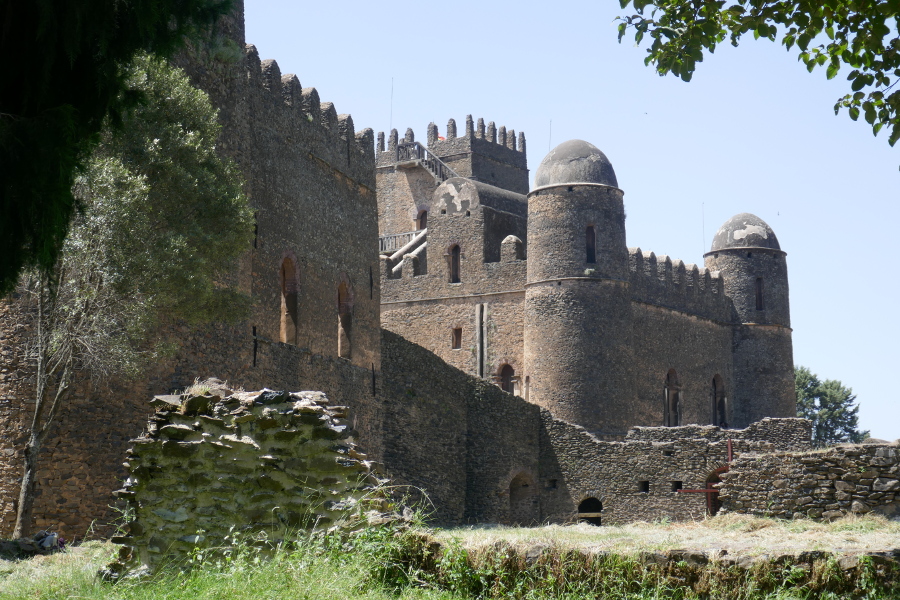 It is an impressive collection of mansions recognized as World Heritage and maintained by UNESCO.
For details, e.g. on Wikipedia.
The tour with the Spanish couple was very amusing, especially Wendelins strive to sweep up the  remnants of his Spanish. Christina struggles with
English, and Wendelin's stammering encourages her to speak English. At least we believe.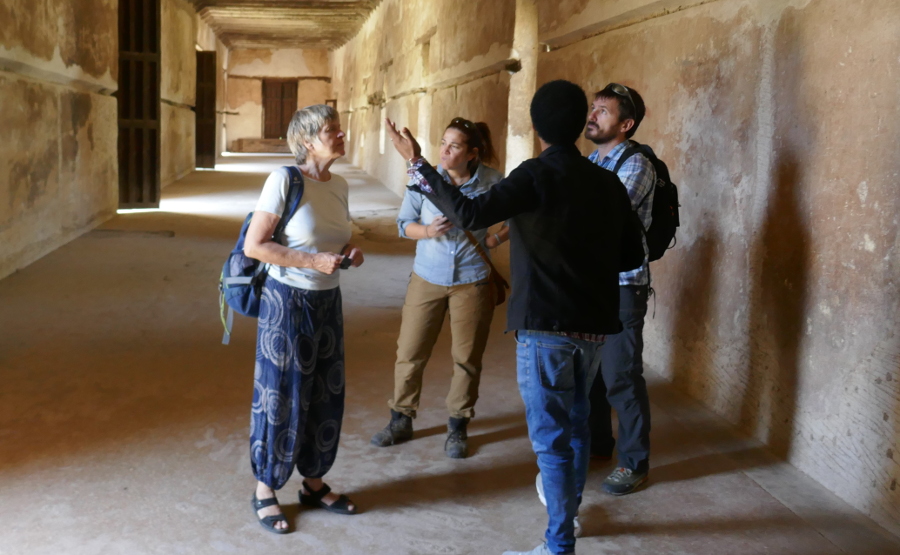 We continue to the 17th century church of Debre Birhan Selassie, where an Orthodox prayer or sermon is currently taking place. Tourists are stomping among the faithful, but they seem not be  disturbed by it.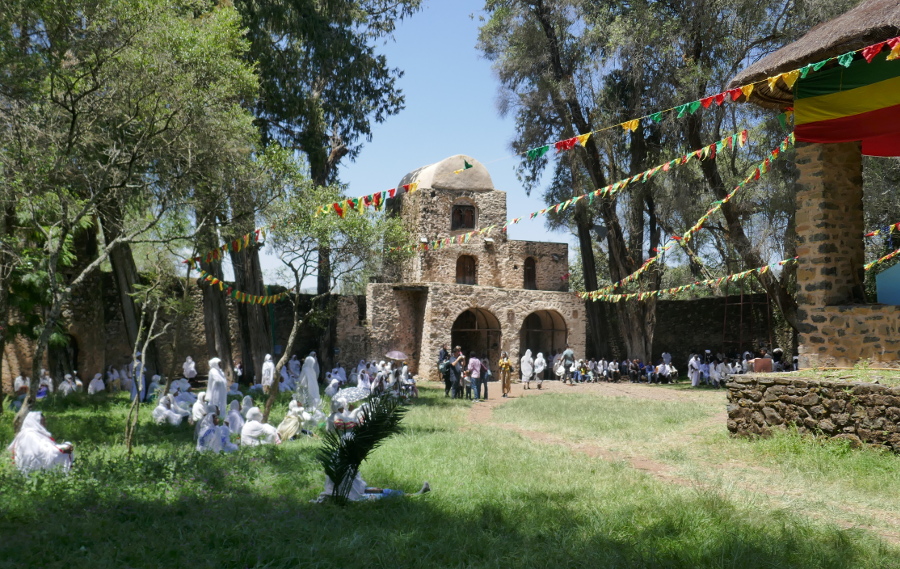 Finally, we go to Fasiladas' Bath, a moated castle,  where he used to go in to heal his skin problems. It is unfortunately only once a year, namely to  Epiphanes, the feast of the baptism of Christ, really filled up to the top with water. Fasilides ordered, that only at Epiphanies the festivities should take place there.
Mohammed, our Muslim guide, tells of a custom for Epiphanes – that young men throw the coveted girl a lemon. If she let's the lemon lie, it will be nothing. If she throws it back, he can ask again …
Only he should hit the right lady with the lemon,  otherwise it could be embarrassing.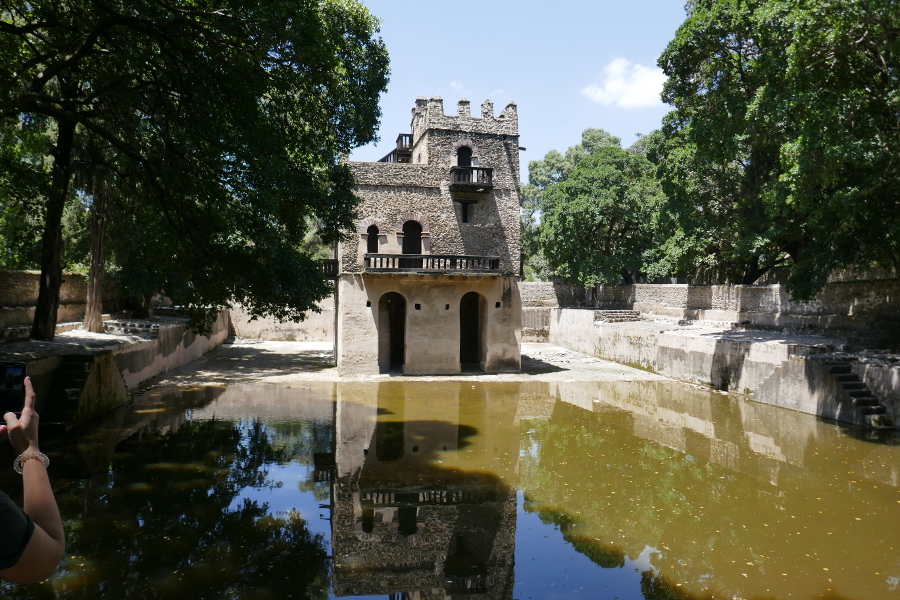 In the afternoon we tried to organize the other  destinations, which is not so easy. We hope to be able to hike in the Simien Mountains in the next few days.
Finally, the young man from Tesfa-Tours has replied, but the hike has got quite expensive now.
So everything is not moving streamlined – but  nevertheless it's interesting. Like the statue of Emperor Thewodros II in the central square in Gonder.