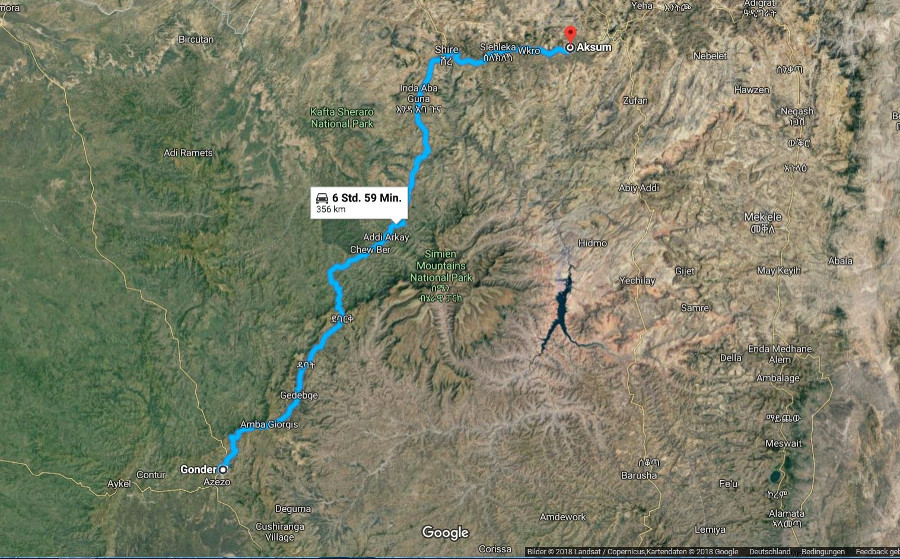 In the morning, we said goodbye to Christina and Daniel, who take the
plane to Mekele.
Then our driver comes and we go, north, to Debark. The route does not
rise steeply but steadily and, after about 40 km, we eventually reach 2950
m. Then it goes up and down on an almost plateau.
The road is occasionally interrupted by smaller villages, sometimes the
Saturday market is in full swing, but everywhere people are walking
along the highway along their destination – with the characteristic
stick over their shoulders and hinged arms.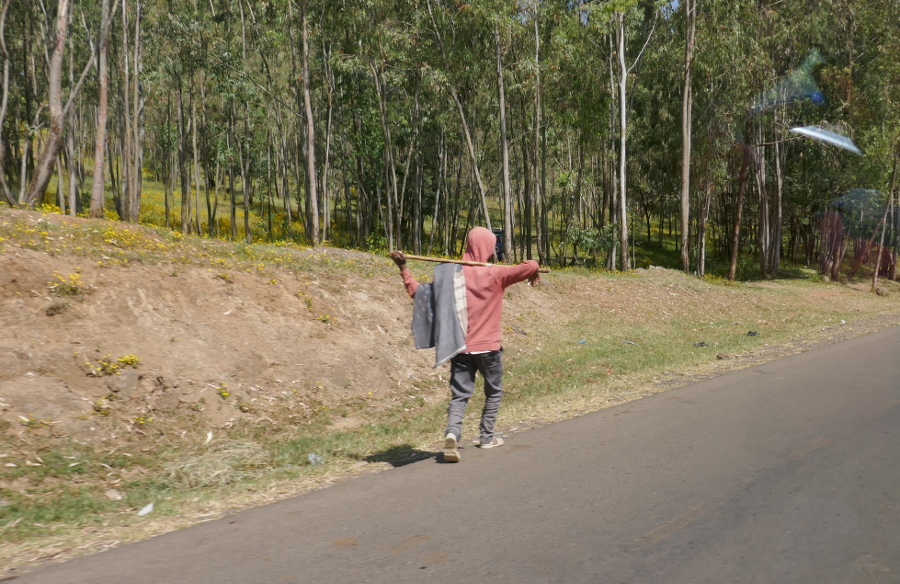 Most of the houses are built in a traditional way: a square of thicker
wood is filled with slender rods (of eulalyptus trees). Then the walls
are gradually filled with a mixture of straw and clay or simply slush
and often swept with cow dung at the end. But many dwellings have not yet
come out about the paneling with poles. Roof and front door consists
mostly of corrugated iron.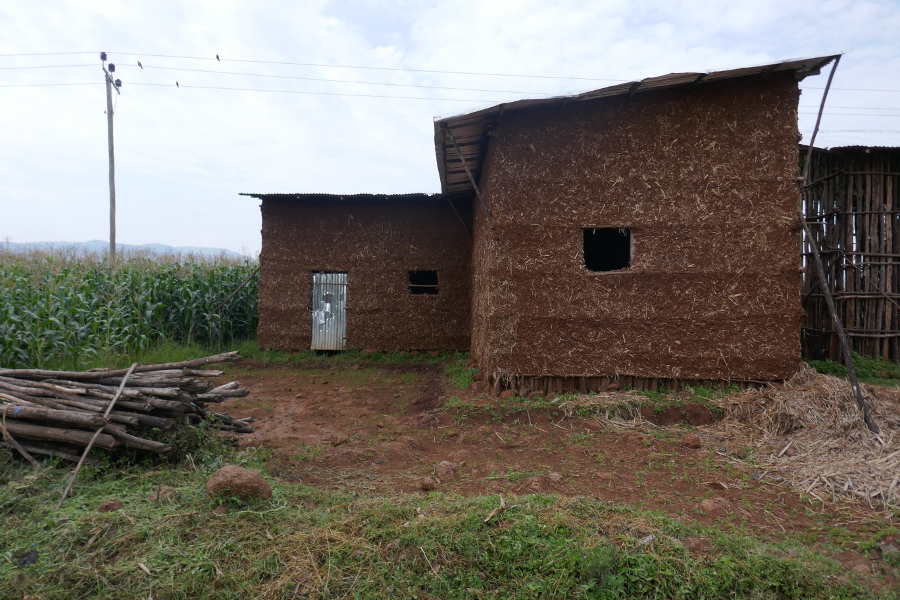 The landscape is changing, it is a beautiful plateau, everywhere are
yellow flowers that you can see all over in the villages – they must
be verbena and a kind of mullein.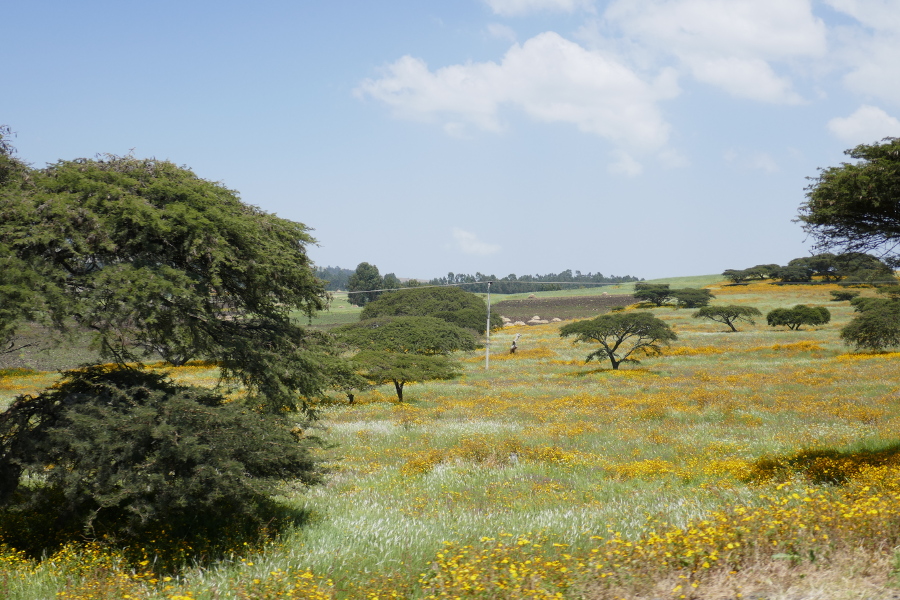 Finally we reach the city of Debark. A place which may have 50 000
inhabitants. We head to Wolya Lodge. An Ethiopian with an Italian
"immigrant background" has been running accommodation there for a year. The rooms are very basic, two beds, a chair. Our host reports that he took over the lodge in September last year. He has already done a lot – but it still needs a lot! Anyway, we decide to stay there because it's clean, the host is friendly and there's no need to go to the – probably overpriced – Simien Lodge, which wants 210 USD for a double room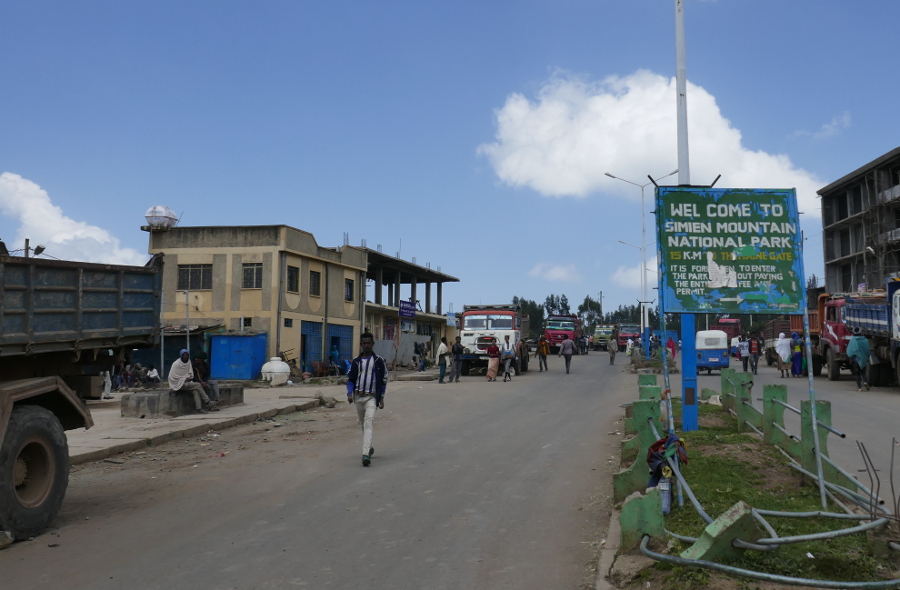 Then we drive to the park headquarters. It is still closed and the driver Haile suggests to take a traditional coffee. We sit around and immediately one of the young men around us speaks to us in German. We ask why he speaks German so well. He had attended a course for three months. He speaks really well for that. It turns out – he is a guide
and, one gives the other – he makes us an offer for two and a half days – he wants 225 euros for everything (he as leader, the scout, that is an armed companion, obligatory at park visits , and the park entry). That's really very expensive! After some back and forth he accompanies us to the Park headquarters, which has meanwhile reopened. He shows on a diorama where to walk. Annette particularly insists that 225 is too much. Finally, he goes down to 140 – and after we decide that this is
still too much for two and a half days, we agree on 100 euros Birgr for two days. Gesche, the guide, uses our money to pay for the park entrance and the
scout for two days. He keeps the receipt, he still has to get the scout and bring him in the morning.
Annette is outraged by the high price. And indeed – even the Ethiopian host of the lodge says that the 2050 Birr are completely overpriced for 2 days Guide. 500 Birr for a guide – that was always the price.
We decide to go back and not let the usury with us. The host let us take his young manager with us for support. When we turn up at the park office, Gesche comes already running. He gives the receipt, defends his price again, he must also pay taxes…..
In the park office we meet a man from the guides association. He says the official price is 550 Birr and he will send us a good English speaking guide.
We drive back – and in fact a young man comes very soon, very friendly, with whom we discuss the day tomorrow.
But in any case, today it is not worth any more to do the planned first hike.
Instead, we go shopping with the manager of the lodge – and make a nice detour over the small hill above the lodge.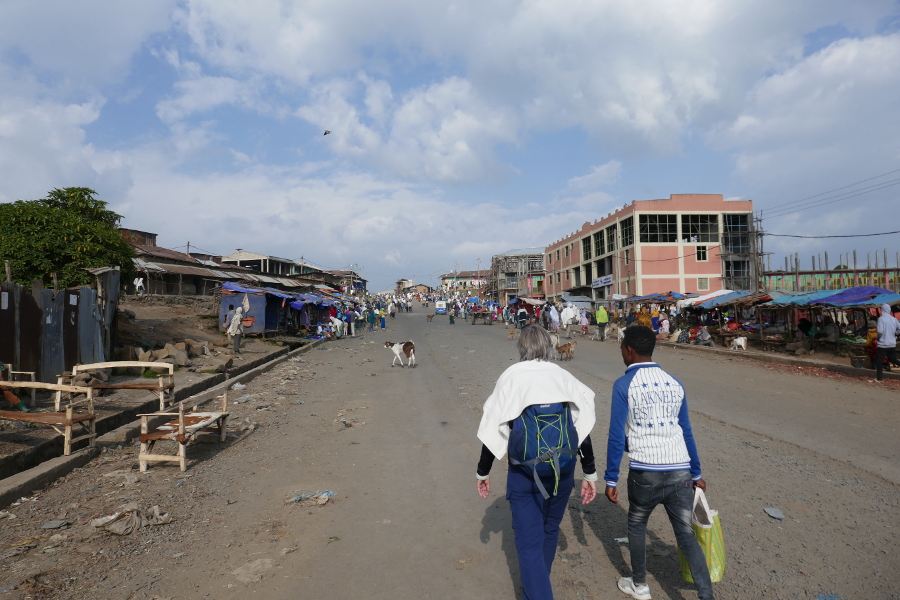 By the way, it gets pretty cold in the evening. We are sitting in the simple restaurant and have packed ourselves thick.
Tomorrow we want to do a long hike in the Simien Mountains.