In the morning we talk at breakfast with the American guest, who lives in the room next to us. He came over from Houston, Texas, to marry his fiancee. Of course with wedding-suit and loads of gifts for the family. But his luggage has disappeared on the way from Houston via Istanbul and Jedda. He has been waiting for three days. We keep our fingers crossed for him.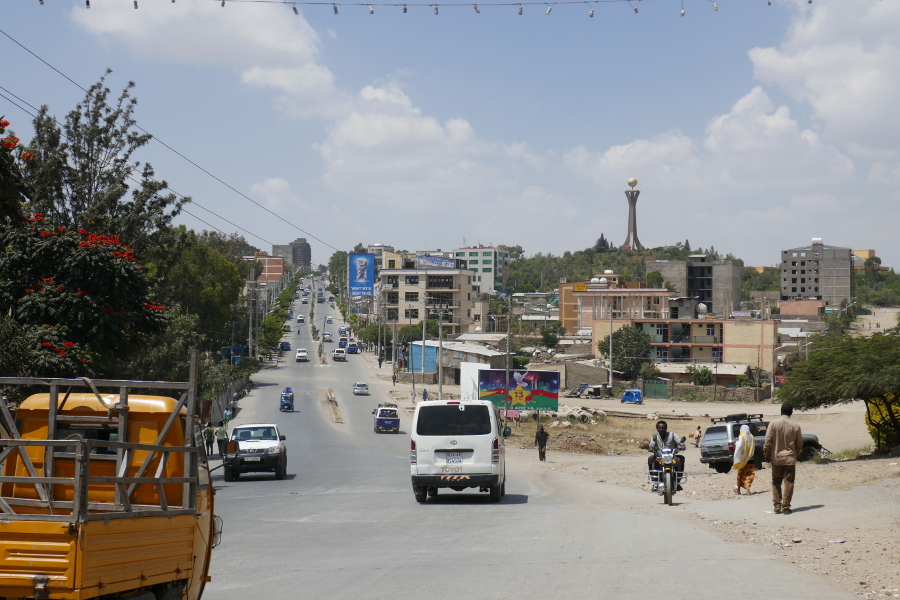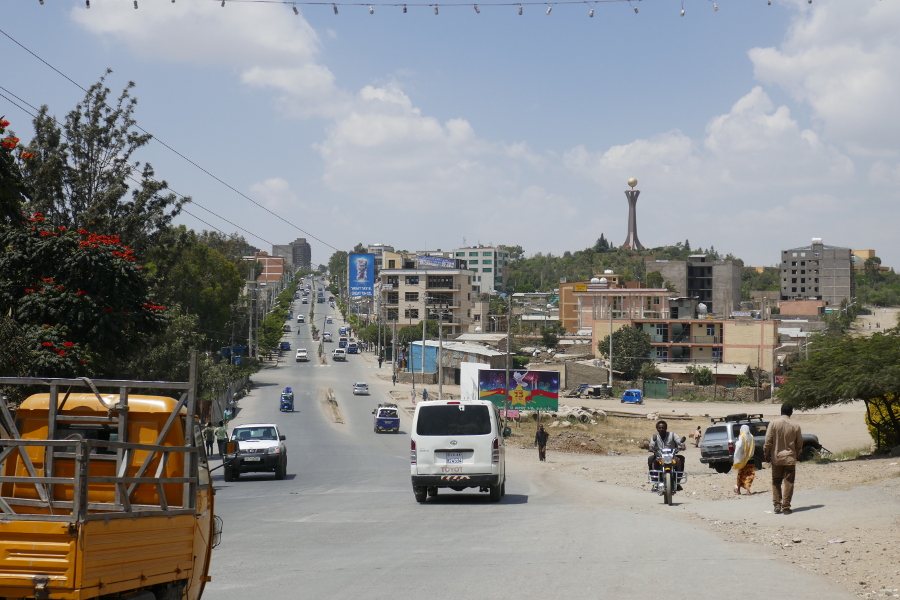 Then we start hiking – on foot through side streets to the Monument of the Martyrs of the Revolution. A towering column with sculptures about the struggle of the people of Tigray.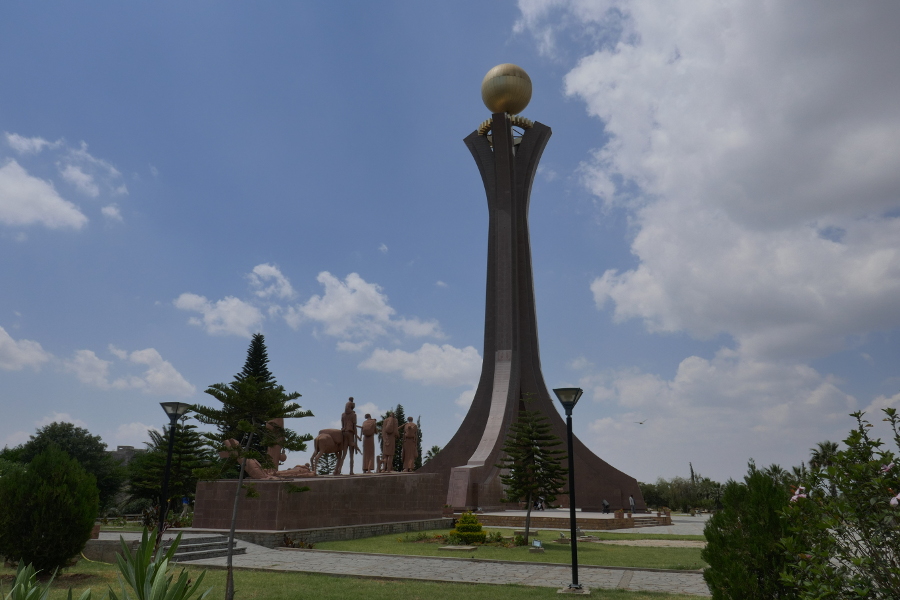 We also visit the museum. Picture-board after picture-board and reports on the liberation struggle of the TPLF against the Mengistu regime. Especially the exhibition of original equipment of the broadcasting group is of course interesting for Wendelin.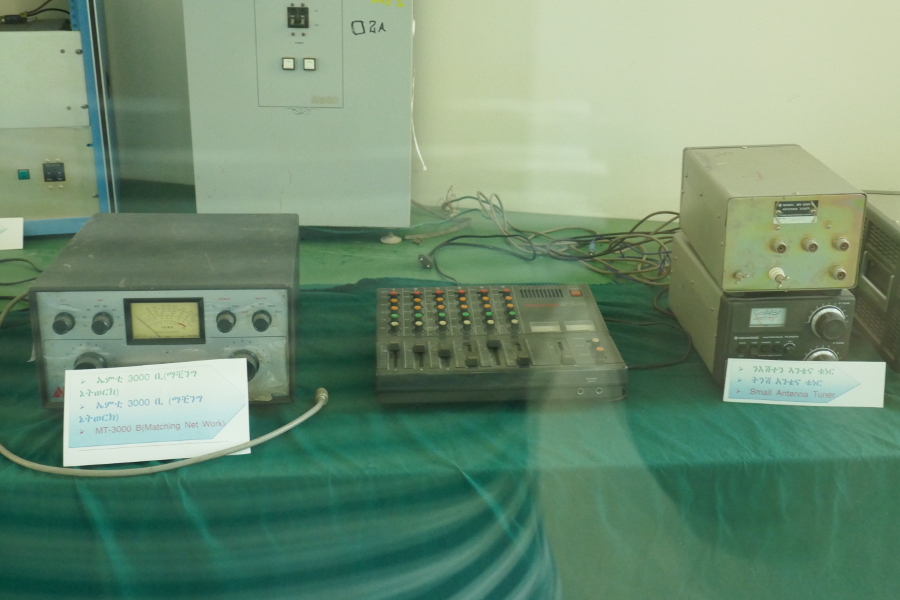 We ask the museum guard about the book by Barakat Simon, whom Wendelin had interviewed in 1991. "Yes, of course, that's in the souvenir shop". Only – the lady for the tiny glass box, which is signed "Souvenirshop", was just at lunch break. So we have another coke in the cafeteria and see a lot of older Tigrinians, which – we learn on request – hold a veterans meeting.
Then the lady comes with the book. We buy one, even if it is completely in Amharic.
Then we look for the TPLF office, which should also be on the grounds. Two men whom we address lead us directly there. – We declare that we are seeking contact with Barakat and Mulugeta Gesese and also with Heshe, who was at that time press officer of the REST (Relief Society of Tigray). Heshe accompanied the film team to May Megelta.
Oh yes, they know them all. Heshe should be in REST headquarters, down in the city. I also get right away his phone number. And Mulugeta Gesese – who was our first point of contact at that time – is in Addis, of course.
We exchange the telephone numbers with the two – the one by the way is a sound engineer at Tigray TV – and even before our evening departure to Addis we have the phone numbers of Barakat and Mulugeta.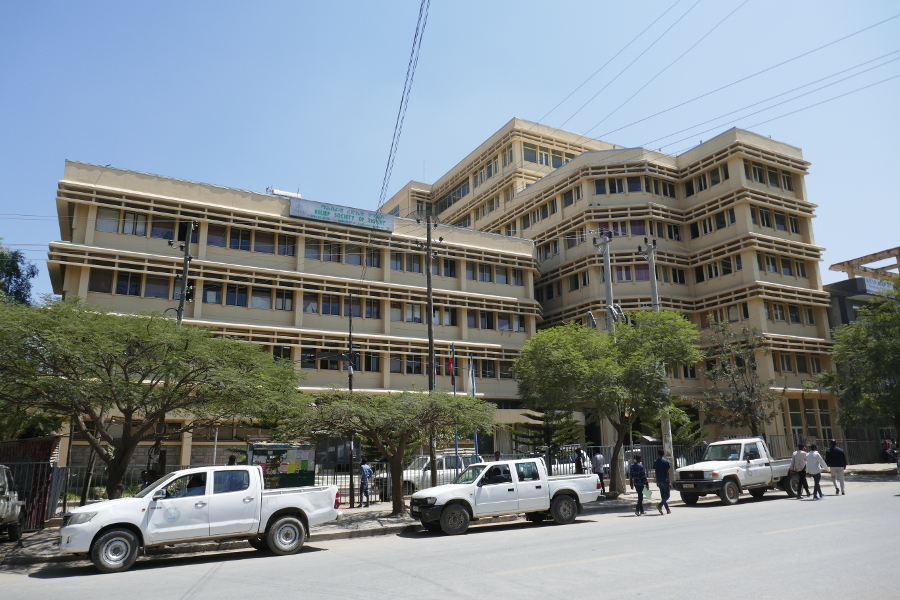 We are still trying to visit Heshe in his office at the REST – but unfortunately he is not in the office today. We leave a message and get his e-mail address.
Then Chris, our host, drives us to the airport.
Mekele was really an interesting city!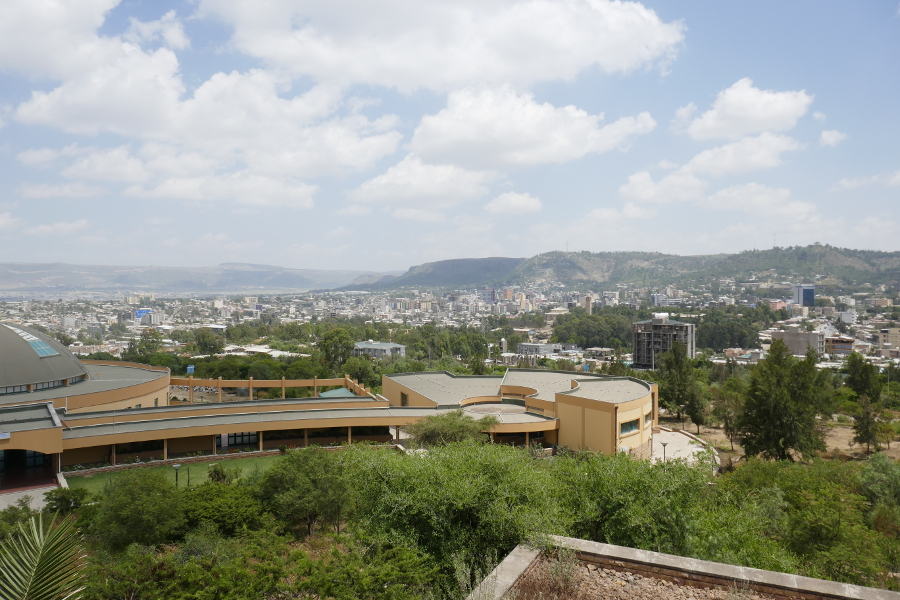 The hotel Nexus near the airport in Addis picks us up. It's a really good deal. A bit noisy, but really great shower, a luxurious room