In the morning we have to leave our luxury hotel in Addis early – our flight is to go at 8:10. We use shower and other installations one last time – then with the free shuttle to the airport.
Wendelin had already checked in – and was actually able to print boarding passes at one of the terminals.There is a deadlock at the baggage drop-off:the computers have failed. That suggests evil! But there are a few passengers passing us who were also able to pull the baggage tags out of the check-in computer. Wendelin goes there again – and he actually manages to outsmart the machine (you have to call the point again "seat selection" …) and we also have two banderoles.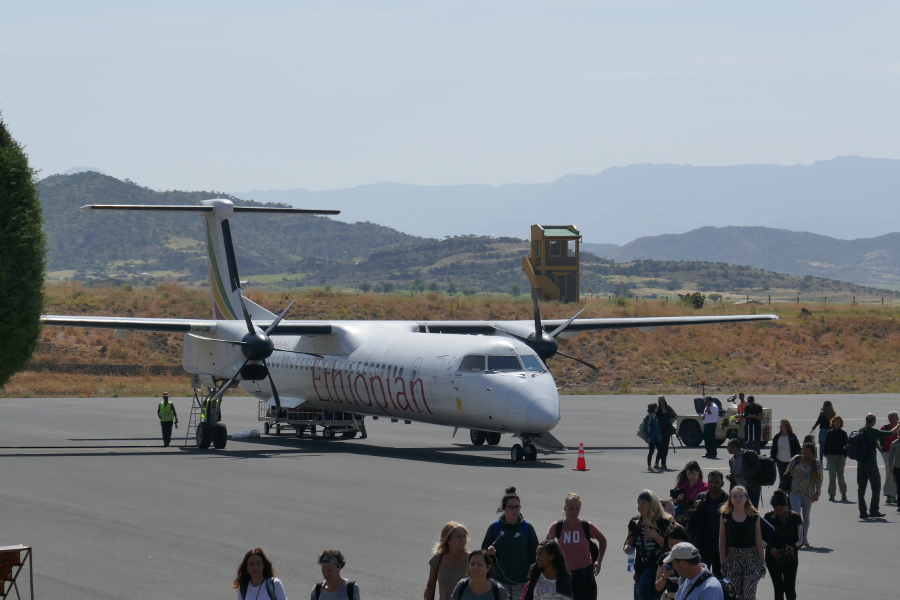 But the flight is – as expected after the breakdown – about three quarters of an hour late.
At the provincial airport in Lalibela we are, as foreseen, picked up – and we go with our new guide Estefanos and the driver in a 4WD southwards.
We drive about 70 km – mostly on dirt roads – to the place Gashena, which is located on the Woreta Highway (it connects Gonder and Bahir Dar in the west with Woldja on the main road to Addis). At the roadside, you see a lot of small snack and other stalls. Estefanos leads us to one of the lunch opportunities. Soon, we are getting a very poor Injera, but we can order some more sauce and vegetables.
Then the car drives us about 11 kilometers to the starting point of our hike, Werkhaye Mariyam. The car rumbles over pebble tracks- of which we will see some during the hike.
First, our luggage is packed on a donkey again.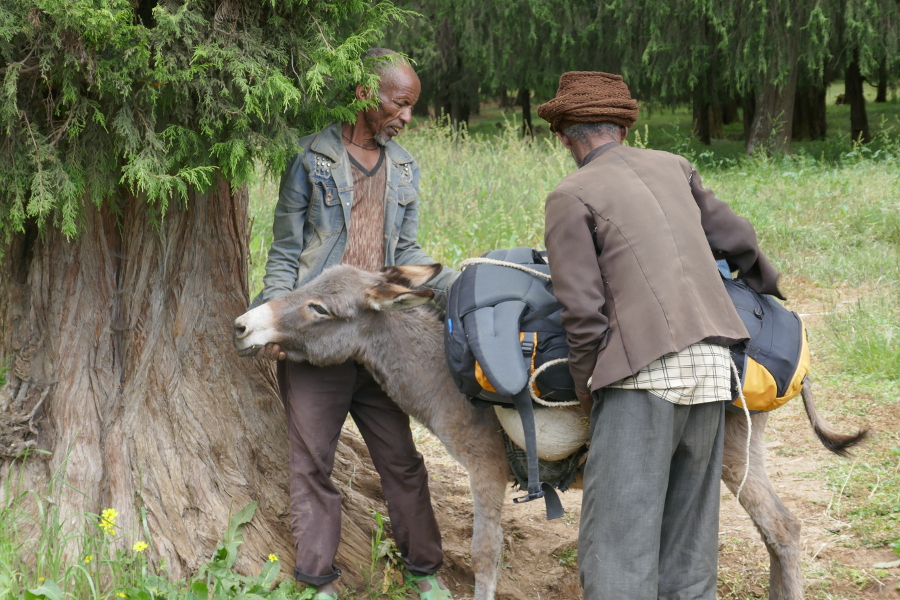 Then we start our hike, the donkeys ahead with drivers.
Around the village Agor Giyorgis brisk construction activity. According to Estefanos, the farmers replace the traditional round huts with rectangular houses. The walls are made from slender eucalyptus poles. The interstices are filled first from the inside, then from the outside with a mixture of loamy soil, cow manure and straw. The mixture is smoothed, the roof is made of corrugated metal. And the gable painted in different colors.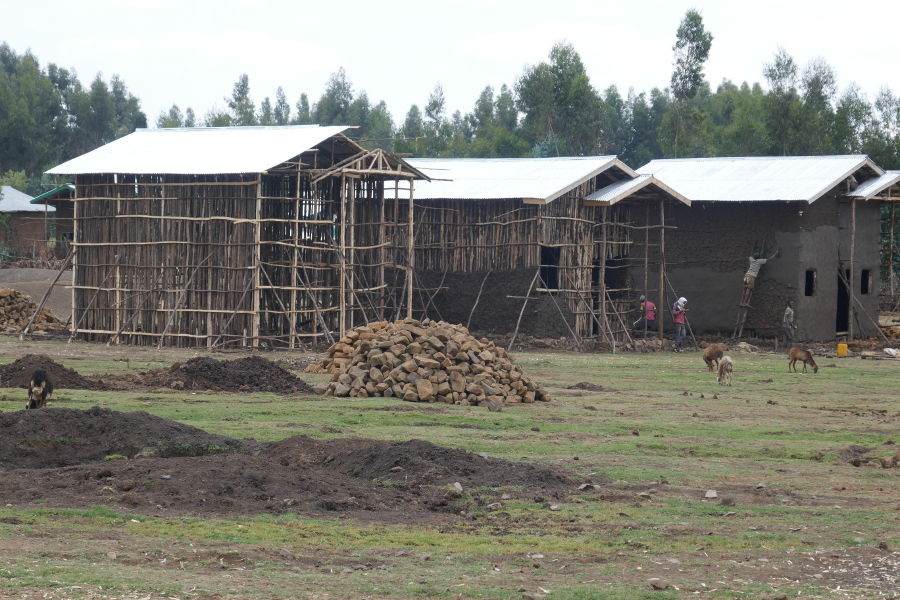 Estafanos explains that farmers can only get connected to the electricity grid in the new houses.
The path leads largely through villages, mostly along the dirt road that connects the settlements. After 12.5 km we are at the destination – the community lodge Mequat Mariyam. It is beautifully situated on the southern edge of the Wollo Highlands.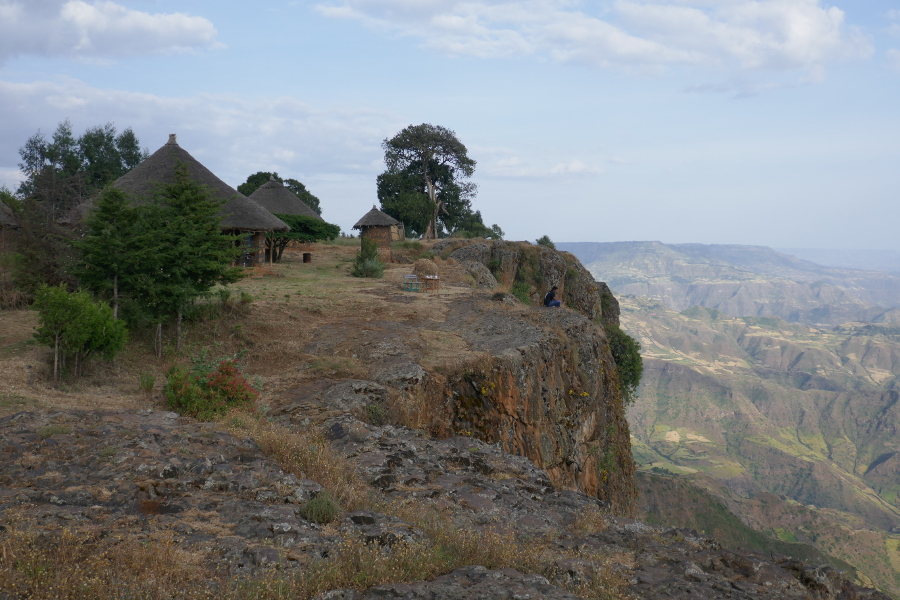 The lodge is very original, a bit more than the one in Tigray that we have already discussed.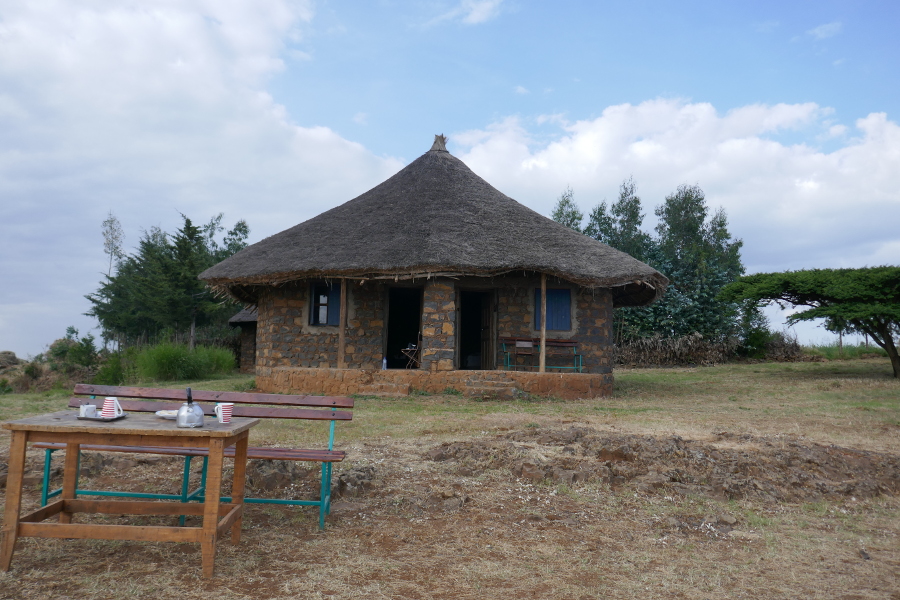 Wendelin sits too long on the toilet and gets cold. He goes to bed with chills. And he takes the hot soup and rice for dinner in the room. But it was probably only the effort of getting up early, flight and hike – soon he gets better and he does not get any fever.